Pseudoclitopilus rhodoleucus in Western Bohemia
Author: Editorial staff 21 May 2016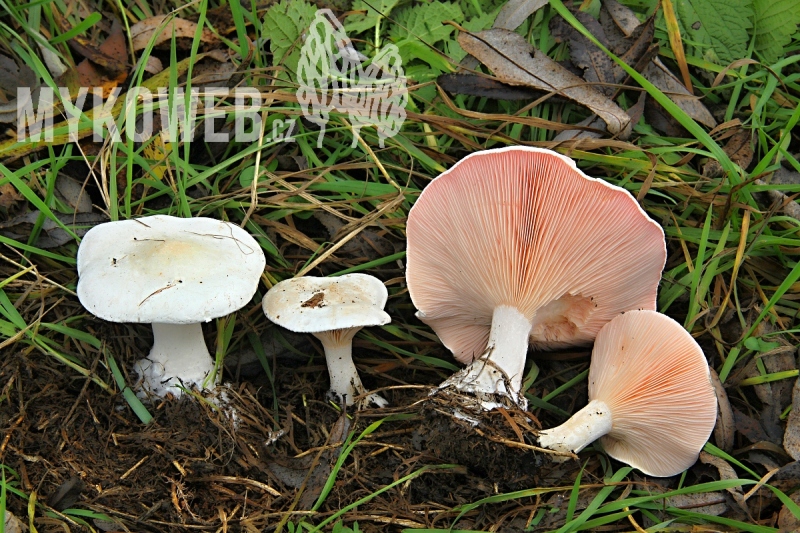 Pseudoclitopilus rhodoleucus in Western Bohemia
If you are interested in purchasing photos, please contact us (ID: 3217)
In the middle of November 2014, we made a trip looking for Hygrocybe species near city Toužim in Western Bohemia. We took a stop near a small village called Pernared. There was standing a solitary Salix. We have found some interesting fungi there that looked like some Clitocybe species. We were suprised by pink coloured gills. We took a look at the fungi under the microscope when we came home and determined it to be a very rare species, Pseudoclitopilus rhodoleucus that has never been found in Western Bohemia before.
Pseudoclitopilus rhodoleucus (Sacc.) Kühner 1926
Syn.: Leucopaxillus rhodoleucus (Romell) Kühner , Clitocybe rhodoleuca Sacc., Agaricus rhodoleucus Romell, Lepista rhodoleuca (Romell) Maire
The cap 4-10 wide, low convex to applanate, very often with a wide umbo. The surface of  the cap is smooth, dry, white to creamy. The gills are dense, easily separable, pink to salmon coloured. The stipe is 3-5 x 0,8-2 cm, cylindrical with a clavate baes. The flesh is white, soft, aroma weak. The spore print is white.
Dimension of spores: (6,9-) 7,2–7,9 x 5,3 – 5,9 µm (excluding ornamentics), Q = 1,2–1,4, Qav = 1,33, elliptic to ovoid, hyaline, with one big central guttule and with strongly amyloid ornamentics. Basidia with 4 sterigmata and a basal clamp, dimension: 36-42 x 8,8-10,2 µm. Cystidia none.
We found 12 fruitbodies that were growing in litter of Salix. No other tree was there. The locality: 470 meters above sea leavel, near Pernarec village, Plzen - north, sq. 6144. In literature, many trees are quoted in connection with this rare fungi. Birch, ash, oak and many others. However, we have not found that Salix would be mentioned anywhere. Like Frantisek Kotlaba (Mykologicke listy, 2013), we suppose that Pseudoclitopilus rhodoleucus is not myccorhizal fungi, but saptrotrophic one as it has been always found in a place with a lot of litter.